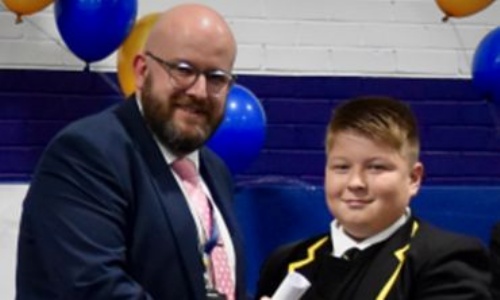 For the first time in several years the school was finally able to come together and celebrate the achievements and successes of our students on the evening of Wednesday 7th December.
It was lovely to see so many different winners of the KS3 and KS4 subject awards. In addition to this was the recognition of the students who had worked so tirelessly across the range of the curriculum and consequently were awarded individual study awards.
Ellie F and Stella A impressed the audience with their strong, vocal performances whilst Abigail B produced a wonderful piece on the piano. Unfortunately, for technical reasons, the musical number of 'Revolting children' from Matilda was not possible on the night but hopefully the students will get to display their dancing and singing skills in the near future.
Dr. Keown received the Debbie Rooke award for continuing to inspire students in science through numerous extra-curricular clubs and activities, whilst Mrs Perfect was presented with the Noreen Withey Award for continuing to go that extra mile.
Ana V picked up the Headteacher's Academic Award for an outstanding performance across her GCSE's which saw her gain an average of over grade 8. Jesse O, Bliss O and Armandas V I am sure will be keen to follow in her footsteps as they collected their respective Key Stage 3 awards for academic performance.
As always a huge thank you to Mrs. O'Connell and Mrs. Donovan for organising both events in quick succession of each other and making the whole afternoon and evening run so smoothly.