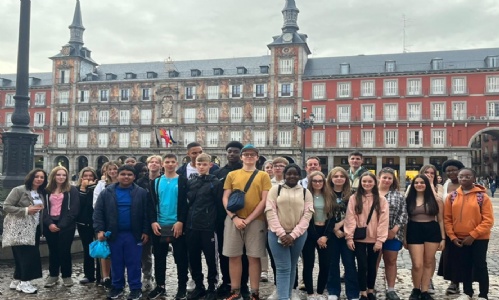 Madrid 2023
The trip to Madrid was a fantastic opportunity for our DLS students to come together for an invaluable educational and personal growth experience. Students should be proud of themselves, they couldn't have behaved better. They were WOUNDERFUL.
Madrid is a beautiful city full of a fantastic variety of cultural attractions, art galleries and lively plazas that gave the students an authentic taste of Spain. I was so impressed to see how they put the theory of the classroom into practice and took the opportunity to converse with native speakers in real life situations.
I have to give a BIG THANK YOU to my colleges; Mr Fogarty, Mr Futcher & Mrs O'Connell for their help and support during the trip, they made the trip even better!
There is only one more thing to say, that I am looking forward to taking my new set of Year 10 students, next year, to the lovely Madrid.
Mrs. S. Lillo - Trip Leader